'71: Berlin 2014 – first look review
A young English squaddie is trapped in a hostile area of Belfast, 1971 in director Yann Demange's harrowing drama, writes Andrew Pulver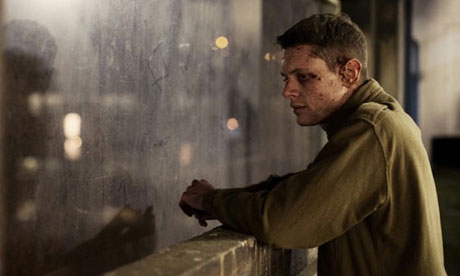 Stuck in a phantasmagoric nightmare … Jack O'Connell in '71. Photograph: Berlin film festival
The Northern Ireland Troubles emerge as a phantasmagoric nightmare in this harrowing, powerful study of a single violent night in Belfast in, as the title indicates, 1971. The date is key: the sectarian conflict in the North had only recently reignited after the civil rights campaigns of the mid 60s, and British soldiers deployed on the streets in 1969. Within a short time both republican and loyalists were engaged in copious bloodletting; the British army, jumpy and out of its depth, had little experience with dealing with hostile civilians so close to home. 1971 saw internment introduced; the following year, 1972, was the Troubles' most deadly, with nearly 500 killings.
Production year: 2014
Cast: Jack O'Connell
This, then, is the historical backdrop: we are invited to see it through the eyes of a young squaddie called Gary Hook, fresh out of basic training, who along with his regiment is unexpectedly assigned to Northern Ireland. On what looks like his first trip outside barracks, Hook is separated from the rest of his unit after a mini-riot; after taking a severe beating (and seeing a fellow soldier shot dead only inches away) Hook escapes into the rubble-strewn, battle-scarred streets. Hunted by the Provos, still wearing his dead-giveaway battle fatigues, and leaking blood from some nasty wounds, Hook is a stranger in a strange land – a land lit largely by the flames flickering from burning cars.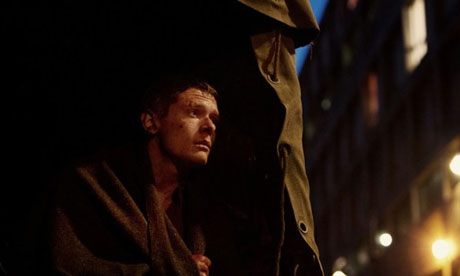 It's Hook's progress through the Belfast night that gives this drama its heft; a kind of reverse image of Odd Man Out, the 1947 James Mason thriller about an IRA gunman stranded and wounded in the same city. As scripted by Black Watch writer Gregory Burke, the soldiers occupy a studiedly neutral position within the knotted politics of the time: Hook's unit are supporting a brutal raid on a house in the nationalist Falls Road by vicious RUC officers; later, Hook's ordeal will see him pass through a loyalist stronghold and become a wedge between dissenting Official and Provisional IRA factions. First-time feature director Yann Demange (Top Boy) contrives a brilliant set piece as Hook's unit buckles under civilian assault, and then puts together a heartstopping chase sequence as Hook runs from the Provo gunmen. Rather like the equally brilliant foot chase sequence in Point Break, the threading of hunter and hunted through alleyways, gardens and – in 71's case – knocked-through terrace housing to facilitate guerrilla operations, offers a succinct exposition of the familiar-yet-alien urban landscape of riot-torn Belfast. (You would presume, from its casual brutality, that 71's film-makers have studied Alan Clarke's Elephant, still the benchmark for rendering the Troubles' surreal violence on film.)
It's a film that holds you in a vice-like grip throughout; only wavering towards the end with a faintly preposterous climactic shootout. Jack O'Connell is a dourly persuasive presence as the hapless, near-mute Hook; inevitably he's a little overshadowed by the more colourful roles around him: Sean Harris, as a moustachioed undercover operative, is probably the pick of the supporting cast. Richard Dormer, meanwhile, as humane nationalist medic Eamon, gets to deliver the film's key line: the British army, he says, is "posh cunts telling thick cunts to kill poor cunts". In some contexts, it would bring down the house; here, it's simply tragic
Source: http://www.theguardian.com/film/2014/feb/07/71-review-berlin-2014
BACK TO NEWS