BAFTA nominations: industry reacts
8 January, 2014 | By Screen staff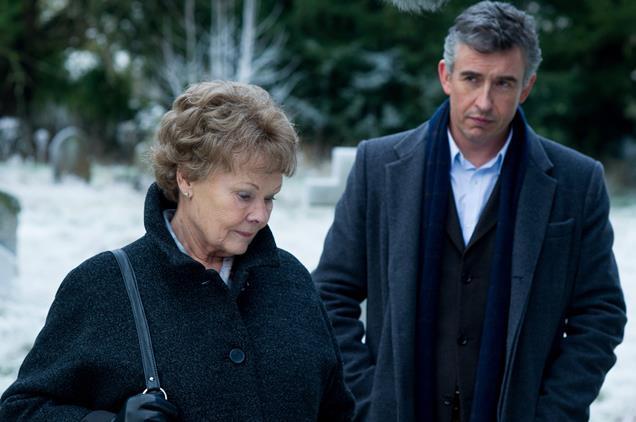 UPDATED: Nominees including Leonardo DiCaprio, Tom Hanks, David O.Russell, Steve Coogan, Judi Dench react.
For a full list of nominees click here.
In response to American Hustle's 10 nominations directorDavid O Russell said: "Mind blowing. Humbled and beyond grateful to be recognised by BAFTA in this way. It means everything to have our actors and our craftspeople, who put their hearts into this picture, acknowledged."
Steve Coogan, who starred in, co-wrote and producedPhilomena, said of the film's four BAFTA nominations:"Philomena has been a labour of love. To make a film with the very best people, where comedy and pathos sit side-by-side, is not easy. We all wanted to make something sincere and uncynical without being naïve. To have it acknowledged by BAFTA is very satisfying."
Reacting to her Best Actress nomination for Philomena — her record-breaking 15th acting nomination — Judi Dench said: "I'm very proud to be associated with this film and I thank BAFTA voters for their nomination. I'm honoured and thrilled to be in such fine company."
Best Actor nominee Leonardo DiCaprio said: "I am truly honoured to be nominated today by the British Academy Of Film And Television Arts. These nominations reflect the determination of an extraordinary cast, crew and of course the great Marty Scorsese."
Following her Best Actress nomination for Saving Mr. Banks actress Emma Thompson said: "Getting the nod from BAFTA means I can hold my head high on Piccadilly. I haven't been able to say that in years…"
Kelly Marcel, who was nominated for Outstanding Debut By A British Writer, Director Or Producer for her script for Saving Mr. Banks, said: "Thanks, that's lovely. A nomination for one of us is a nomination for the whole Banks family. I'm having a cup of tea to celebrate."
Captain Phillips' Best Actor nominee Tom Hanks said: "It's an honour to be included with the other extraordinary actors and I am very happy for all of us who worked so hard on Captain Phillips".
Producers Dana Brunetti and Mike De Luca added: "We couldn't be more grateful for and honoured by these nominations. They're a testament to the incredible work Paul, Tom, Barkhad and the entire company did and we are so proud to be included in this esteemed field of great films and film-makers."
Rush executive producers Nigel Sinclair and Guy East of Exclusive Media said of to film's four nominations: "Thank you so much to BAFTA for honouring Rush. We are extremely proud of these nominations, particularly in such a competitive year with so many outstanding films.Rush was made by champions about champions both in sport and in life. We are thrilled to be part of this exceptional British film. Congratulations to Ron Howard, Andrew Eaton, Eric Fellner, Brian Oliver, Peter Morgan and Brian Grazer, and especially to Daniel Brühl who delivered such an exceptional performance as Niki Lauda. His nomination for Best Supporting Actor is thoroughly deserved."
Directors Pierre Coffin and Chris Renaud said ofDespicable Me 2's Best Animation nomination: "We are thrilled to receive the BAFTA nomination for Despicable Me 2. Pierre and I were both extremely gratified with the enthusiastic response the movie received in the UK. It's a great honour to have our work recognized and appreciated by both the UK audiences and the British Academy."
Anant Singh, producer of Mandela: Long Walk to Freedom, said: "We are especially proud that 'Mandela: Long Walk To Freedom' has received the BAFTA nomination for Outstanding British Film. This is significant as it is the first South African/British coproduction to receive this recognition. This nomination also acknowledges the amazing South African and British talents in the film."
Jennifer Lee and Chris Buck, directors of Frozen, issued a joint statement that read: "On behalf of the entireFrozen team, we are ecstatic, humbled and honored to receive this prestigious nomination from BAFTA."
Tessa Ross, controller of film and drama at Channel 4, said of the 12 nominations for films backed by the broadcaster: "With Steve McQueen's 12 Years A Slavereceiving ten nominations and so much recognition for British talent this is certainly aproud moment for British film. Congratulations to all of our nominees, Film4 is privileged to have supported them on their journey. The very best of luck to everybody."
Of the 11 nominations for films backed by BBC Films, head Christine Langan said: "This has been a great year for BBC Films. The spread of BAFTA nominations from outstanding debuts to recognition for stars like Judi Dench and Emma Thompson demonstrates the breadth and depth of talent working in the UK today. We're thrilled to have 11 nominations and look forward to a brilliant night for British film on 16th."
Ben Roberts, director of the BFI Film Fund, said of this year's nominations: "It's really pleasing to see BAFTA spotlight a wide range of British films, from the VFX genius showcased so vividly in Gravity, the visceral and powerful storytelling in 12 Years A Slave, to the heart-wrenching humanity of films like The Selfish Giant andPhilomena – in what's been an outstanding year for British film-making, it's just a shame not everyone can be nominated.
"The BAFTAs can provide a huge boost for new film talent and it's fantastic to see bold new voices like Paul Wright and Scott Graham included in the Outstanding Debut category. I'm proud that the BFI Film Fund has supported a number of the nominated films, both features and shorts – it's been a privilege to work with these prodigiously talented film-makers, and I wish them and indeed all the nominees the very best of luck for the awards."
Source: http://www.screendaily.com/awards/baftas/bafta-nominations-industry-reacts/5065116.article?blocktitle=LATEST-FILM-NEWS&contentID=40562
BACK TO NEWS