'Lady Macbeth': a period drama like none you've seen before
30 August, 2016 | By Wendy Mitchell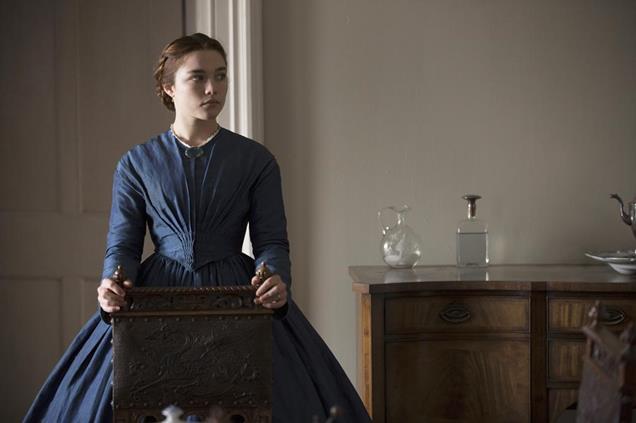 The team behind Toronto premiere Lady Macbeth, touted as one of the hottest discoveries of the year, tell Wendy Mitchell about their unique approach to a period film.
First things first: this isn't Shakespeare's Lady Macbeth. Also, it isn't like any period drama you've seen, thanks to a talented trio of first-timers who tell one headstrong woman's story in a unique way.
Director William Oldroyd, writer Alice Birch and producer Fodhla Cronin O'Reilly each make their feature film debut with Lady Macbeth, adapted from Nikolai Leskov's 1865 Russian novella Lady Macbeth Of The Mtsensk District.
Birch, who has written frequently for theatre with work performed at London's Royal Court Theatre, says she was drawn to Leskov's novella because of its central character, a young woman trapped in a loveless marriage who takes her destiny into her own hands. "She should have been incredibly unlikeable but her passion and tenacity made me go with her. You think it's a familiar story — a young woman trapped in a loveless marriage — but it turns into this unexpected journey."
Birch told her agent Giles Smart at United Agents she wanted to move into the film world. He introduced her to another of his clients, Oldroyd, who was a director in residence at London's Young Vic theatre, and was also moving into film. Oldroyd was impressed with Birch's work and, like the writer, became obsessed with Leskov's Lady Macbeth.
"In literature of this period, women usually suffered in silence," he says. "For her to fight back, that was so different." Oldroyd was especially impressed with Birch's adaptation of the text. "Alice brought out the psychology of the characters," he says, noting she also changed the ending to leave the protagonist more empowered.
At the same time, Ireland-born Cronin O'Reilly, a National Film and Television School graduate who was Oscar nominated with Timothy Reckart's 2012 animated short Head Over Heels, had already set up production company Sixty Six Pictures. She was introduced to Oldroyd by a mutual friend and the trio set out to create a special take on a period film (it went so well they are developing a second feature together).
Lady Macbeth, which is now touted as one of the hottest discoveries of 2016, has its world premiere in Toronto's Platform section before heading to San Sebastian, with further autumn festivals to be announced. Protagonist Pictures is handling international sales.
In their update of Leskov's story, Katherine (Florence Pugh) lives in rural England in 1865. She contends with an overbearing husband (Paul Hilton) and a disapproving father-in-law (Christopher Fairbank), before embarking on an affair with handsome farmhand Sebastian (Cosmo Jarvis), with dangerous consequences.
Lady Macbeth is notable as one of the first micro-budget period films to be made in the UK. It was brought to life under the iFeatures scheme, run by Creative England, BFI, BBC Films and Creative Skillset to work with films with a base budget of $455,000 (£350,000), though this can be topped up with other finance as it was for Lady Macbeth.
All the other iFeatures projects have been contemporary, but Cronin O'Reilly knew the scheme's executives were looking for ambitious applications. "A lot of people thought we were crazy [making a low-budget period film], but we knew iFeatures asked for bold, audacious projects," she recalls.
Cronin O'Reilly says the iFeatures structure was great for giving feedback and advice in development and pre-production yet not smothering the team during the shoot. "They allowed us to get on with it," she says. The tight budget actually helped with the intimacy of the story; as Birch says, "There is a distance in some period films — this is more human."
One key location
That the team was able to stick to that budget was thanks to using one location — Lambton Castle stately home in Northumberland, north-east England — for 22 of the shoot's 24 days. A single location allowed more time to prepare and work, and "not wasting time moving around", says Cronin O'Reilly. They had key cast for 10 days of rehearsals in situ before they started to shoot, enabling them to map out everything beforehand.
Rising UK actress Pugh, so far best known for Carol Morley's The Falling, shines assuredly in her first leading role. "We met quite a few actors who you think, 'You're the Lady Macbeth we already have in our mind, with the icy glare.' But [our character] had to start softer than that," Oldroyd says. "Florence can come across as youthful and then become more hardened. Underneath, she is kick-ass."
The film also stars former Screen Star of Tomorrow Jarvis, who impressed the team with his commitment to the role. He slept on the estate's floor one night in preparation for a difficult scene, and worked with horses and dogs to understand life as a groom. "He was dedicated to the process," Oldroyd praises.
Source: http://www.screendaily.com/features/lady-macbeth-a-period-drama-like-none-youve-seen-before/5108785.article
BACK TO NEWS