Oscar foreign-language film race 2018: All the titles submitted so far
BY SCREEN STAFF4 SEPTEMBER 2017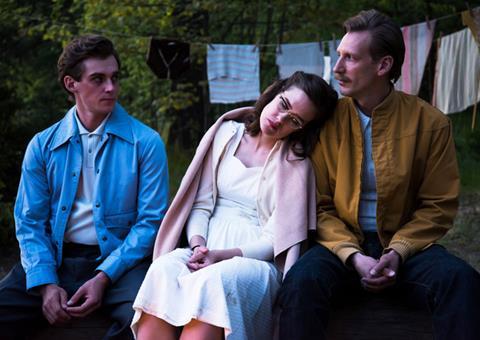 The Oscar nominations aren't announced until January 23, but the race has already begun in the best foreign-language film category.
Every country is invited to submit what it considers its best film of the year to the Academy of Motion Picture Arts and Sciences (AMPAS), with one film accepted from each country.
Last year there were 85 films in the longlist of entries for consideration in the category – a record-breaking number – before the contenders were whittled down to a nine-strong longlist and, eventually, the five nominees put forward to the final Oscar vote: Denmark's Land Of Mine, Sweden's A Man Called Ove, Australia's Tanna, Germany's Toni Erdmann and eventual winner, The Salesman from Iran. (For insight into how the shortlisting process works, read Screen's 2015 interview with producer Mark Johnson, chairman of AMPAS's foreign-language film award committee.)
This year's national submissions have already started to be announced, with Screen keeping track of the submissions as they are announced below:
Finland: Tom Of Finland (Dome Karukoski)
Dome Karukoski's drama chronicles teh life and times of the titular Finnish, gay artist. Aleksi Bardy wrote the screenplay for the film, which tells the life story of Touko Laaksonen, a man who would become known around the world by his nom de guerre "Tom Of Finland". The film opened this year's Goteborg Film Festival. Protagonist Pictures handle sales. Kino Lorber picked up US rights and Peccadillo Pictures took UK rights, where it was released in August 2017.
South Korea: A Taxi Driver (Hun Jang)
Hun Jang's story of a taxi driver who takes a German reporter from Seoul to Gwangju to cover the 1980 uprising has been a smash hit in Korea, passing 10 million admissions and taking more than $70m at the local box office, making it the country's highest grossing film of the year. Well Go USA Entertainment picked up US rights.
Belgium: Racer And The Jailbird (Michaël R Roskam)
The film, about a fated racetrack romance between a driver and gangster, is having its world premiere in Venice and will also screen at Toronto. Director Michaël R Roskam's debut feature Bullhead was nominated for the Foreign Language Film Oscar in 2012. Wild Bunch is handling international sales, with Neon releasing in the US later this year.
Palestine: Wajib (Annemarie Jacir)
Annemarie Jacir's wry father and son comedy-drama premiered in competition in Locarno over the summer, where it was warmly received by critics and won three independent awards, the FICC/IFFS Prize, the Youth Jury Environment Prize, and the ISPEC Cinema Award. Paris-based Pyramide International handles sales.
Germany: In The Fade (Fatih Akin)
Fatih Akin's thriller won Diane Kruger the best actress award at Cannes for her portrayal of a women seeking justice after her husband and son die in a terrorist attack. The film is screening at Toronto International Film Festival. The Match Factory is handling worldwide sales.
Sweden: The Square (Ruben Östlund)
Ruben Östlund's art-world satire won the Palme d'Or in Cannes and is playing as a Special Presentation at the Toronto International Film Festival. Magnolia pre-bought US rights in September 2016 and plans a New York and Los Angeles release on October 27 ahead of a national roll-out.
Bosnia and Herzegovina: Men Don't Cry (Alen Drljevic)
The film, set two decades after the war ended in Yugoslavia, follows a diverse group of veterans who gather at a remote mountain hotel to undergo group therapy. Men Don't Crypremiered at Karlovy Vary, where Picture Tree International boarded international rights.
Switzerland: The Divine Order (Petra Volpe)
The period drama, set in 1971, follows a housewife who embarks on a campaign for women's voting rights. It received its international premiere at Tribeca Film Festival and won the audience award for narrative as well as best actress in an international feature for Marie Leuenberger. TrustNordisk handles international sales.
Nepal: White Sun (Deepak Rauniyar)
Deepak Rauniyar's second feature tells the story of a family divided by civil war who come together to lay their father to rest. The film travelled the 2016 festival circuit widely, premiering at Venice Film Festival and winning the Interfilm award at Toronto. International sales are being handled by The Match Factory.
Iraq: The Dark Wind (Hussein Hassan)
A love story set against the backdrop of the Yazidi genocide, The Dark Wind premiered as the closing film of last October's Busan International Film Festival. The film also won the UNESCO cultural diversity award at the 2016 Asia Pacific Screen Awards.
Dominican Republic: Woodpeckers (José María Cabral)
José María Cabral's prison romance was the first film from the Dominican Republic to play at Sundance, where it competed for the Grand Jury Prize this year. It also played at Seattle, Miami and Guadalajara, where it won three awards. Film Factory have boarded for worldwide sales, with AZ films and Outsider Pictures acquiring distribution rights for America and Canada respectively.
Azerbaijan: Pomegranate Orchard (Ilgar Najaf)
Premiering at Karlovy Vary in July, it won the Grand Jury prize at the Eurasian International Film Festival weeks later. Pomegranate Orchard follows the return home of a man to make amends at his father's modest house surrounded by pomegranate trees.
Turkey: Ayla: The Daughter Of War (Can Ulkay)
Can Ulkay's debut feature is set in 1950 during the Korean war, where a Turkish soldier decides to care for an abandoned five-year-old girl. It is due for release in Turkey in October, and is produced by Turkish company Digital Sanatlar.
Source: https://www.screendaily.com/news/oscar-foreign-language-film-race-2018-finland-picks-tom-of-finalnd-korea-selects-a-taxi-driver/5121706.article
BACK TO NEWS